Posts for tag: chiropractic Modesto
By Romo Chiropractic
July 10, 2012
Now that summer has finally arrived, it is tempting to spend as much time outdoors as we can, taking advantage of the long days and the brilliant sun. But summer can also bring with it a lot of heat, so it's important to know how to keep cool on those hot summer days and how to recognize the signs of heat stroke.
The body normally regulates its own temperature by sweating as ambient temperatures rise. However, in cases of extreme heat, the body's regulation mechanism can sometimes be overwhelmed, leading first to heat exhaustion and then to heat stroke if nothing is done. The danger of heat stroke is particularly risky on days that are extremely hot and humid, as excessive humidity does not allow the body to cool itself properly through sweating.
Those at greater risk of heat stroke are babies, the elderly, those with heart, kidney or lung disease, and people taking some forms of medication. When it is very hot and humid, body temperature in those affected can rise very quickly to 106 °F or more in only about 10-15 minutes. Following are some of the possible signs of heat stroke:
Body temperature 103 °F or above

Hot, red, dry skin, with no sweating

Strong, rapid pulse and deep breathing

Weak pulse and shallow breathing

Nausea and vomiting

Throbbing headache

Confusion

Dizziness

Hallucinations

Convulsions

Lack of consciousness
Heat stroke can cause organ failure, brain damage, and eventually death if not treated promptly. If you believe someone may have heat stroke, move them to a cool or shady location and call emergency services immediately. While waiting for help, you can do some things to help minimize the damage.
Get the victim cooled down as quickly as possible; remove excess clothing and use whatever method available to reduce the victim's body temperature. Ideally, place them in a bathtub filled with cool water. If that is not possible, a cold shower or ice packs on the head, neck, groin and armpits will help. In situations with lower humidity, you can also wrap the victim in a sheet that has been wet with cold water and turn a fan on them. If outdoors, cool water from a garden hose can be used to cool down the victim while waiting for help.
To help ensure that you do not become a victim of heat stroke yourself, be sure to keep well hydrated on hot days, wear light clothing, avoid alcohol, and seek out air-conditioned environments. If you don't have air conditioning at home, consider going to the mall, the library or taking in a movie. Using these tips will help you to enjoy your summer safely!
By To Your Health March, 2012 (Vol. 06, Issue 03)
March 13, 2012
On the morning of Feb. 23, 2012, history was made when Dr. Fabrizio Mancini, a doctor of chiropractic and the president of Parker University in Dallas, Texas, and Dr. Patrick DeFazio, a Los Angeles doctor of chiropractic, were filmed for an upcoming episode of the "Dr. Phil" show at Paramount Studios in Hollywood, Calif. This was chiropractic's first appearance on the popular daytime talk show, which is broadcast on 220 television stations across the U.S. and in more than 40 countries worldwide. Nearly 21 million viewers tune in weekly to hear the advice given by Dr. Phil McGraw, a clinical psychologist with 25 years in practice, and the show's online presence is over 2 million unique viewers/followers per day.
The segment, which airs this Wednesday, March 14, began with Dr. Phil introducing Dr. Mancini as his chiropractor for 14 years and author of the book The Power of Self-Healing: Unlock Your Natural Healing Potential in 21 Days! This introduction set the stage for Dr. Mancini to talk about his book and the concepts of chiropractic. He stated that "the only way to truly fulfill your life potential is to fulfill your health potential." Dr. Mancini added that the difference between chiropractic and what he called the "sick care system" in the U.S. is that "we see patients as [people, not just diseases]."
Dr. Phil reinforced this notion, telling viewers, "I got chiropractic treatment from you [Dr. Mancini] 2 or 3 times a week." He went on to introduce his current personal chiropractor, Dr. DeFazio, who was given an opportunity to talk more about chiropractic and how it can, among other benefits, help relieve stresses on the body.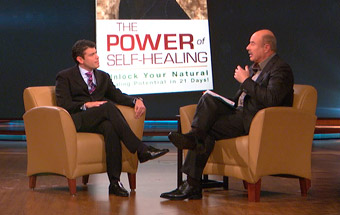 The show took an interesting turn when a man named Joe was introduced and came out in a wheelchair. Joe was only 5 years old when a drunk driver crashed into the family car, killing his father and sister, leaving both his legs paralyzed. It was clear that Joe was still very hurt and angry about the accident, particularly toward the woman who had caused him and his family so much pain.
After hearing Joe's story, Dr. Phil asked Dr. Mancini how he would approach Joe's situation using the concepts from his book. Dr. Mancini talked about the importance of chiropractic care for Joe, as well as the need to forgive the drunk driver. (At this point, the conversation addressed Joe's emotional and psychological issues, consistent with the typical focus of the program.)
As the show wound down, Dr. Phil thanked both Dr. Mancini and Dr. DeFazio for taking care of him over the years. He then thanked the audience and let them know they would each receive a copy of Dr. Mancini's book, which elicited a huge cheer from the audience.
After the show, a number of people working on the set asked about how to find a local chiropractor or remarked how much they had learned about the value of chiropractic. This was in addition to the many members of the audience who talked about chiropractic and asked Dr. Mancini to autograph their copy of his book.
This was an important positive event for chiropractic. The audience heard about chiropractic, the wellness philosophy and that Dr. Phil sees his doctor of chiropractic more than once a week. They were also taught that chiropractic can play a role in the health of everyone, including someone who is paralyzed. With its March 14 airing, a global audience will have the opportunity to learn about the power ofchiropractic care.
---
Over the past nine years, the "Dr. Phil" show has received 21 Emmy nominations and won five PRISM Awards. In addition to generating more than 15,000 hours of television programming, Dr. Phil McGraw has authored six #1 New York Times best-sellers, published in 39 languages with more than 24 million copies in print.
Page printed from:
http://www.toyourhealth.com/mpacms/tyh/article.php?id=1537&no_paginate=true&no_b=true
By Romo Chiropractic | Modesto Chiropractor
January 24, 2011
Join the millions of people who have not only found relief from back, neck and headache pain through chiropractic, but also experienced improved overall health with chiropractic's natural, drug-free approach to health care.
Why Choose It?
Chiropractic is the method of natural healing most chosen by those seeking complementary and alternative health care for acute and chronic conditions.
While you may first visit a chiropractor to relieve pain in the lower back or to treat sciatica, neck pain, whiplash or headache, you will find that a Dr. Romo views you as a whole person and not the sum of your parts. Dr. Romo will work in partnership with you to ensure your optimal health and wellness.
Triggers your body's ability to heal
Dr. Romo recognize that many factors affect your health, including exercise, nutrition, sleep, environment and heredity. Chiropractic focuses on maintaining your health naturally to help your body resist disease, rather than simply treating the symptoms of disease.
Starts with a thorough evaluation
When you visit a Romo Chiropractic, you will be evaluated using time-honored methods, including consultation, case history, physical examination, laboratory analysis and X-ray examination. In addition, you will receive a careful chiropractic structural examination, with particular attention paid to the spine.
Involves no drugs or surgery
A broad range of techniques are used to locate, analyze and gently correct vertebral misalignments (subluxations) in the spine. Chiropractors may use manual adjustment, electrical muscular stimulation, ultrasound or massage. But they never use pharmaceutical drugs or invasive surgery. Chiropractic is a natural method of healing that stimulates the body's communication system to work more effectively to initiate, control and coordinate the various functions of the cells, organs and systems of the body.
Partners with other healthcare professionals
Doctors of chiropractic work in tandem with other healthcare professionals. If your condition requires attention from another branch of the healthcare profession, that recommendation or referral will be made.