Posts for tag: Cough
By To Your Health January, 2018 (Vol. 12, Issue 01)
January 31, 2018
To Your Health
January, 2018 (Vol. 12, Issue 01)
By Editorial Staff
If you haven't already tuned out any conversation about giving your children cough and cold medication when they're under the weather, this should do it. The Food and Drug Administration has strengthened its warning on prescription cold medicine, stating that no product containing opioid ingredients such as hydrocodone or codeine should be given to children – of any age. That's ages 0-17, in case you're wondering.
New language being added to warning labels on all prescription cold medicines will indicate that the risks of using the products outweigh the benefits in children and should only be used by adults ages 18 and older.
What about over-the-counter cold medication? Well, in the past decade, the FDA has already issued several warnings and required language to be added to labels limiting their use in kids. In fact, a consumer update on the FDA website titled "Most Young Children With a Cough or Cold Don't Need Medicine" makes its position abundantly clear, especially for the youngest (ages 2 and under); while a 2016 update, "Use Caution When Giving Cough and Cold Products to Kids," offers additional safety information and includes alternative treatments that may work better.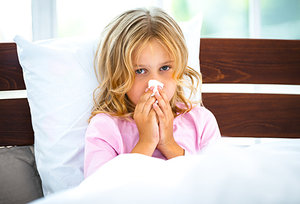 What alternative treatments? The FDA mentions cool mist humidifiers, saline nose drops / spray, and drinking plenty of liquids among the nondrug options. We would be remiss if we didn't add honey; such a simple remedy often overlooked by parents rushing to the drugstore for a quick fix to their child's discomfort. For example, a Pennsylvania State University College of Medicine study found that children given buckwheat honey before bed coughed less and slept better than children who didn't receive honey. And other research suggest zinc lozenges may be effective for resolving cold symptoms in children and adults, particularly if taken within close proximity to the arrival of symptoms.
Your doctor can tell you more about the dangers of over-the-counter and prescription cold medicine and why natural alternatives are safer, effective options for you and your child.
By Editorial Staff of To Your Health
July 20, 2011
Any parent will tell you that it's the worst feeling in the world when your child is sick – and you don't know what's wrong. Uncertainty and speculation can make for some sleepless nights, even when it's something seemingly as harmless as a cough. That's because a cough, while common, can be caused by all manner of things; some fairly benign and some more health-threatening. Here are a few (varied) reasons why your child – or you, for that matter – could be coughing, courtesy of the Mayo Clinic: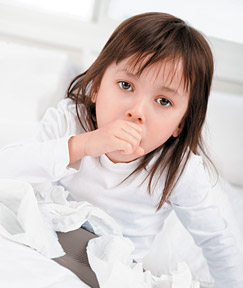 Respiratory Tract Infection: A cough is often a symptom of a cold, flu, pneumonia or other infection affecting the upper respiratory tract. Unlike most of the other symptoms associated with these conditions, it can linger for some time, whether because the infection is hanging around or because your airways are still inflamed and sensitive to irritation.
Asthma: The leading cause of chronic cough in children and also common in adults, asthma can also cause wheezing and shortness of breath, although with at least one type of asthma, cough may be the only symptom. As you might expect, asthma-related coughs may be worsened by respiratory infections or other conditions characterized by coughing.
Blood Pressure Drugs: Yes, some children (and many adults, of course) take ACE (angiotensin-converting enzyme) inhibitors, which may cause chronic cough; in fact, it's estimated that 20 percent of people taking blood pressure drugs develop chronic cough that may linger even after medication is discontinued.
Gastroesophageal Reflux Disease: GERD causes stomach acid to flow back into the esophagus, so the throat and even the lungs can be chronically irritated, the result of which can be chronic coughing.
There are other causes of cough, but keep in mind that an occasional, temporary cough is completely normal; it helps keep your lungs clear of foreign substances, secretions, etc., and helps to prevent infections. It's the unrelenting cough that deserves a visit to the doctor for further investigation, if nothing else than to rule out anything serious as a causative factor.